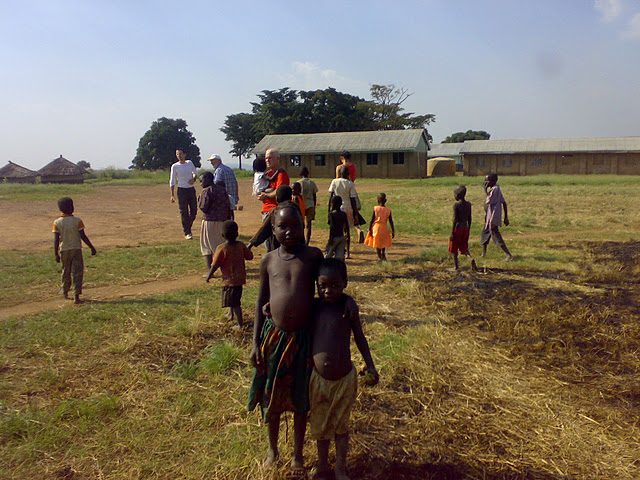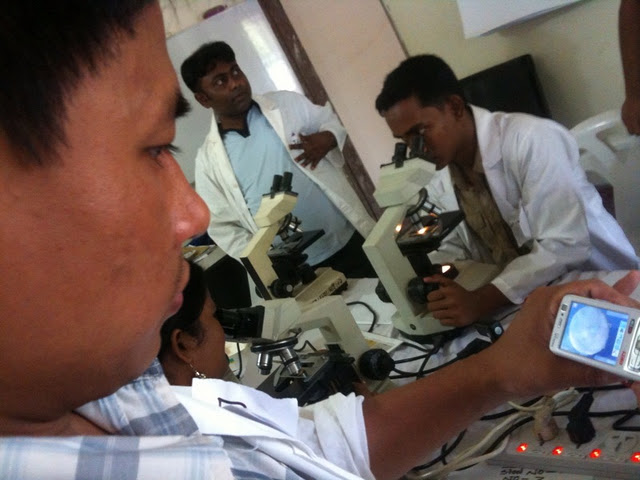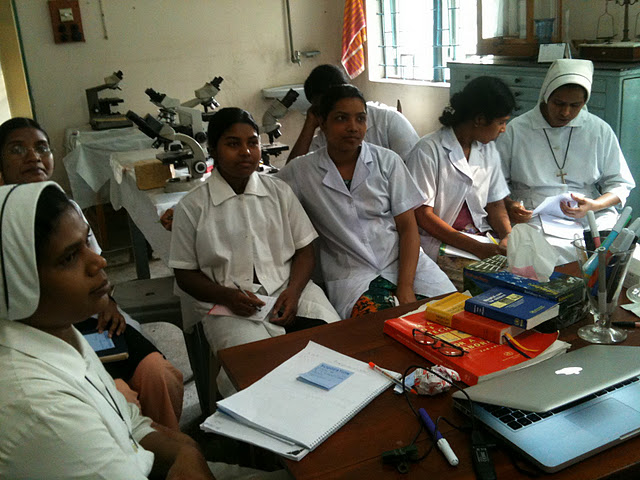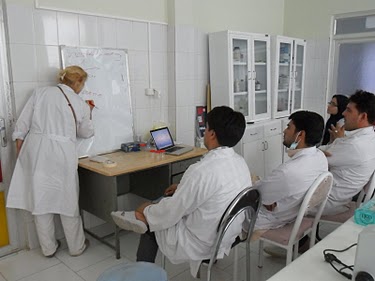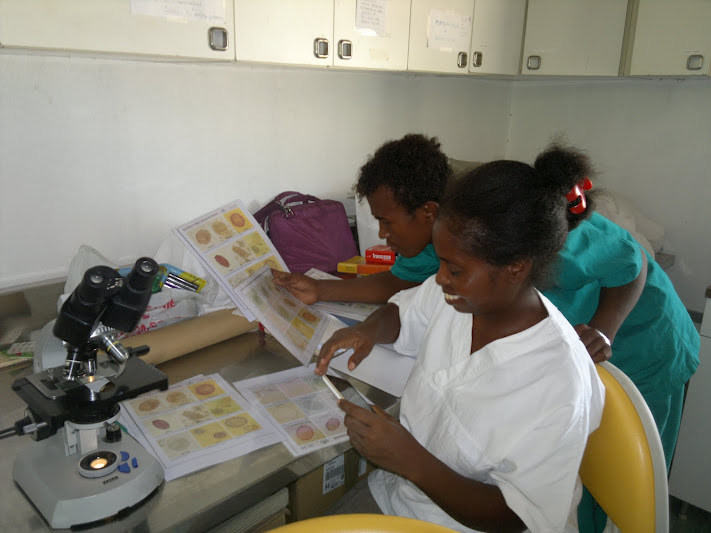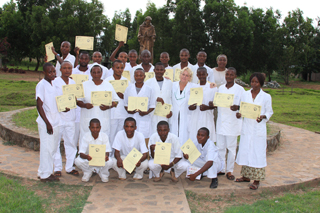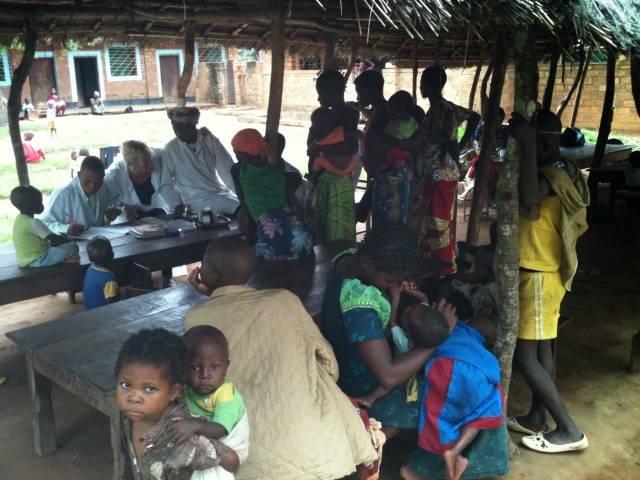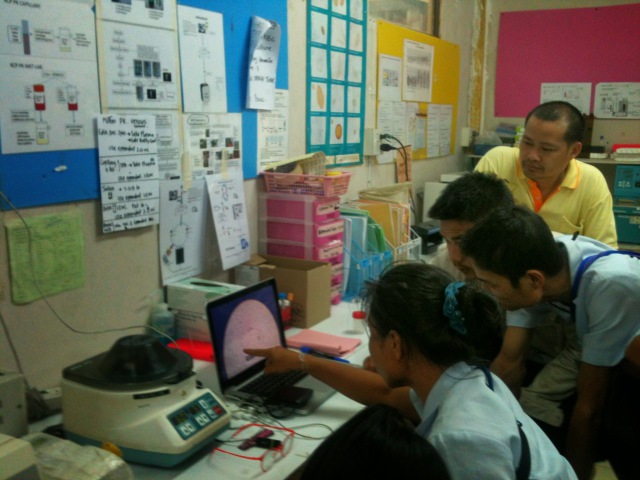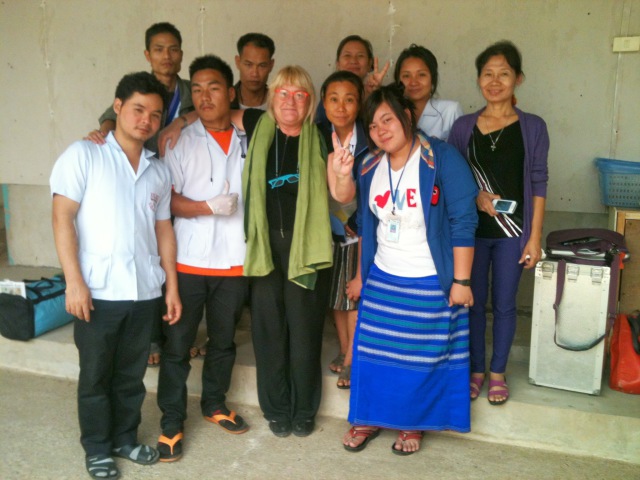 In Gulu, Uganda, September-November 2009, Livia Bellina has been in Lacor Hospital, after invitation of Corti Foundation. Here she taught to students of second year of school for labtechnicians and she built the teaching room for pratical laboratory and introduced the students to microscopy. In Lacor, she taught for the first time using the mobile as educative tool: all students learned easily and quickly MobileDiagnosis® was born.
MobileDiagnosis® partenered with Nobel Professor Mohammad Yunus, and helped introducing the "MobileDiagnosis®" method in rural communities in Bangladesh. In rural centers of Grameen Kalyan in Bhuapur, Tangail 16 lab technicians learned lowcost telepathology and basic telemedicine using only local minimal equipment and available personal cellphones. In Comilla district, 6 medical doctors were trained about logic clinic, differential diagnosis, primary health care and transmission of ultrasound images with the mobile-phone. Later the diagnostic images from peripheral health centers were sent to Dhaka Central Grameen office for a distant diagnosis from a far location.
In Dinajpur, MobileDiagnosis® worked with healthworkers and student of Saint Vincent Missionary Hospital of PIME (Pope Institute of Foreign Missionary Organizations). Here for the first time MobileDiagnosis® method has been teached to five young students (17-25 years old) from the local rural aborigenal community who had no previous experience in medical field. This brief experience proved that the method can be learned by anyone in a very short time regardless external factores like scholarization or age and that everyone can do something for thier community.
MobileDiagnosis® worked with local lab technicians in a MAE (Italian Cooperation Development) project in the Medical Laboratory of Childrness, Governative Hospital of Herat. Five lab technicians of Pediatric Hospital has been introduced to microscopy and to the use of mobile as educational tool. They learned also to take and transmit images taken from microscope by mobile. In Pediatric Hospital of Herat the method proved its potential as tool for bridging socio cultural gap and permit Care and Education to Afghanistan Woman, in a context, were women access to a male dominated health system is restrained ; two women with no education or lab experience learned in a few minutes, driven by the curiosity caused by seeing Dr. Bellina working, to take pictures from a microscope with a mobile phone.
2012 - Madagascar, Andavadoaka and Tulear, explorative mission to locate the best area for future projects.
Livia Bellina worked in Tshimbulu to train 22 people (labtechnicians, medical sudents and nurses); The training covered the following matters:
- How to use the mobile phone to take pictures of the microscopical field and to send them for second opinion.
- Clinical logic and Diagnostic Pathology.
- MobileDiagnosis Method: from cell to diagnosis to m-phone therapy.
- Introduction of smear test to detect cervical cancer.
Benefits achieved:
- Diagnosis' quality improvement and waiting time reduction for clinical analisys.
- Significant false-negative reduction in parasytological exams.
PUBLIC HEALTH IMPACT- COMMUNITY TAKING CHARGE
Action : to prevent anemia/malaria death in the local population.
527 Checking of 527 malaria patients cases (October november 2013) thick and thin slides - reading triple-blind Management of malaria resistent cases : Introduction of the check- exams before and after drugs ingestion, for testing the efficacy of the therapy , in the resistent cases 65 Checking and immediate(real time) therapy provision for all of 65 malnourished children living in the malnourished center All children was checked for :malaria/anemia/general conditions/fever/ dermatological lesions /epato-splenomegaly- all received immediate diagnosis and immediate therapy.
Thailand - Mae Sot - upon invitation of Shoklo Malaria Research Unit
Thailand , March ,second time to Mae Sot for doing training to Mae Sot, Maw Ker Thai, Wang Pha and Mae La refugee Camp with SMRU